We are a real estate agency located in Palma de Mallorca, specialized in the sale of exclusive apartments and properties. We have all kinds of flats, houses, chalets and homes in Mallorca. As real estate consultants, we are specialists in property management and investments in the Premium areas of Palma de Mallorca.
With us you can discover and buy the house of your dreams..
KNOW US
After extensive experience in the sector, in 2008 we decided to create COLMAN PROPERTIES Real Estate Consultants, a great bet full of enthusiasm and effort. After ten years of working in Madrid with an office in the Salamanca District, from which we manage the Premium areas of Madrid, we are very proud of the entire journey and of the fabulous team that makes COLMAN PROPERTIES a reality every day.
We have decided to establish ourselves in Palma de Mallorca with all the enthusiasm and strength that overwhelms us since it is our hometown. We offer a totally personalized and tailored service for each client. Our foundation is to provide a service of the highest quality by selecting the best properties available in the most exclusive areas of Mallorca. We listen to the client to understand their needs to find the desired home.
Our values are basic, honesty, integrity, transparency, privacy.
We base ourselves on these principles to offer the best service. We represent our clients to serve them, find the desired home or sell their property with the agreed objectives. Thus achieving the best possible value in both cases
Despite being born in a time characterized by the economic instability of the country, we trust in our abilities to contribute, to the exclusive real estate sector of Mallorca, a new approach with an entrepreneurial and creative spirit. Since our creation, we "turn dreams into homes", building lasting relationships with our clients, based on trust and emotions.
We offer those looking for the home of their dreams, an exclusive and guaranteed service, by extensive experience in the sector. For us, the customer always comes first, the sale is a natural consequence of good service and trust.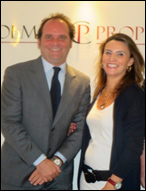 Attentively,

Álvaro Colomar

Carolina Mantovani